Text By Art Simon

My Ricoh 500G Rangefinder
For me, as I think for many photographers, Henri Cartier-Bresson remains the ideal photographer. Seeing life "in slices of one-hundredth second", Cartier-Bresson always seemed to be in the right place at the right time. Aided by his ever-ready small, light, nearly silent Leica Rangefinder, his camera became an extension of his eye. He simultaneously saw and captured the "decisive moments" on film that became some of Photographies most enduring images. He was also apparently born rich. He spent his formative years studying painting, literature and traveling, and still had the means to purchase a camera that represented a years wages to many depression-era workers. Now, more than 60 years later, any Leica new or used still costs a good chunk of money. The appeal, however, of the small, light and quiet rangefinder persists: I wanted one.
I already owned several cameras, and I needed a rangefinder as much as Amy Carter needed a chainsaw, but I wanted one for the same reason: I like the way they work. A rangefinder allows easier focusing in low light, quieter operation and a smaller camera body than the typical SLR. The mechanical design also has an elemental appeal that today's typical "point and shoot" lacks. There's just something cool about the way the two images comes together to form one as you focus.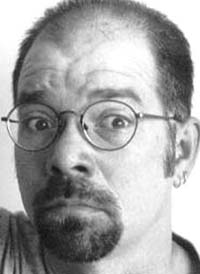 Self-Portrait with the Ricoh 500G:
"Is the self timer suppose to make that crunching noise?"
Shrunken Heads and Beanie Babies
I don't know what it is about purchasing cameras, though, but even the merest mention of my idea brought icy stares from my significant other. It's not like I complain every time she buys another pair of pants. I mean, come on, there is plenty of stuff that I could collect that would be more expensive and more annoying than cameras--shrunken heads, German Nazi-era child pornography (…this one was Himmler's personal favorite!…), Beanie Babies--but collecting cameras somehow knocks you down a few rungs of the social ladder. You can talk about the meeting of art and engineering, comparisons with race cars and motorcycles, but to most people it's about as exciting as dental floss.
As much as I'd like to emulate Cartier-Bresson, my budget (and relationship) can't accommodate a Leica. So with my more humble means I, as many other photographers, set off in search of one of photography's holy grails: the $20 Leica alternative. Surprisingly, there are a good number of Leica-like cameras out of there, but don't look for a new one. Rangefinders are hot: Konica, Voigtlander, Contax as well as Leica are making some outstanding rangefinder cameras, but even the cheapest have prices that round up to $1k. The $20 rangefinder has to be found among the other used flotsam and jetsam that keeps Public Storage in the black. And the area of low potential energy to which it all this bric-a-brac eventually sinks is the biggest dust spot on the internet: ebay. (Unfamiliar with ebay? Read the sidebar: "Internet Auctions: A Quick Introduction") You can't just type "cheap $20 Leica substitute" into the search box at ebay though, you need to know what you are looking for.

Canonet G-III QL17
Inexpensive Japanese Rangefinders
Japan produced a slew of inexpensive rangefinders in the 60's and 70's. Too simple for the pros and too complicated for the average snapshooter who often bought them, many can be found in like-new condition after years of storage in the back of Aunt Helen's closet. Unfortunately, camera stores don't seem that interested in carrying compact rangefinders, and charge an arm and a leg for the odd one they stock. Information and knowledgeable help on these cameras is scarce. I searched the local library, and Ivor Mantale's otherwise excellent book on Classic cameras doesn't even mention their existence (nor does the chapter entitled "emulating Cartier-Bresson" give any hints for emulating his financial freedom). Photography magazines took little note of compact rangefinders when they were new and virtually no notice of them now. I did however find a guide that became something of my Rosetta stone. Consumer Reports June 1977 issue had a survey of the low-priced 35mm cameras on the market. Armed with a copy of the article I set out to search the Internet for my Leica-beater.
Internet Auctions: A Quick Introduction


There are many Internet auction sites but the pioneer of the on-line auction, ebay, dwarfs all others. The auction format works to the seller's advantage. Ebay prices are noticeably higher than typical private transactions. While the prices for camera equipment compare favorably with camera dealers, items typically do not allow an inspection period or return privileges. Cameras are frequently sold "as-is" so the ebay transaction carries significant risk. Payment can be awkward as well, sellers often insist on money orders or cashiers checks for payment (though features like ebay's "billpoint" and a competing product called "paypal" allow individuals to transfer money using credit cards).

So if prices are high, why take a gamble on purchasing equipment through ebay? One reason: The sheer quantity of cameras on ebay is unmatched. While I didn't find a single Ricoh 500G for sale anywhere else, I found four different ones for auction on ebay during the same week. Ebay claims that it has over 2,000 categories with more than 2.5 million items available every day. If you are looking something unusual, ebay may be your best bet.

Ebay allows you to make a "proxy bid". Enter the maximum you are willing to pay, and ebay will automatically make bids for you as the auction progresses.

Reputation is important. Unlike camera fairs or swap meets, Ebay allows users to publicly post their feedback on transactions and classify it as positive, negative or neutral. Buyers and sellers are encouraged to leave their opinions about each other. It's important to read a sellers feedback before placing a bid. The quantity of feedback is obviously less important the quality.

Some things to keep in mind:
Email your questions to the seller before you bid (e.g. does this camera have a rangefinder?). Make sure you know how much the seller will charge for shipping.
Don't bid unless you are certain you wish to pay. Beginners often get caught up in the excitement of the bidding process, bid on too many items, and then get cold feet. Your bid is a contract and backing out of a single bid can ruin your reputation.
The last few minutes of the auction are the most important. The current bid price of an item gives little indication of what the final selling price will be. To get an accurate idea of what similar items have sold for, ebay allows you to search through completed auctions.
Used cameras always look better in photos than they do in real life. Don't rely on the posted photos to assess the condition of the camera.
Don't leave negative feedback without contacting the seller first. Sellers take their reputation seriously and will often bend over backwards to avoid a negative comment.
If after following the above guidelines, you still feel you are the victim of a fraudulent seller every ebay transaction is covered by free insurance. If ebay feels your claim is justified it will reimburse you for up to $200 minus a $25 deductible. Don't let any of this put you off, just use your head and have a good time.
One of the most common Japanese rangefinders is also one of the best. Canon was known for producing high-end cameras when it introduced the affordable Canonet in 1961. The camera was a huge success and the last model of the line, the G-III QL17 was highly rated by Consumer Reports and is frequently seen for sale. The camera is well regarded for it's excellent f1.7 lens and convenient operation. A friend loaned me one for a vacation a few years ago, and I was very impressed by the results. On any given day, there may be around 5 Canonets available on ebay. The bad news is there are plenty of potential buyers for each camera and selling prices hover from $50 to well over $100. Too cheap for my own good, I didn't even want to spend that much. I was going to need to do some more research.
I felt like the Bee Girl
The beauty of the Internet is that no matter what you are interested in, you can probably find other people who are even more obsessed by it than you are. Some more surfing on the Internet and I lucked onto the Yahoo classic 35mm compact club. Here were people who loved cheap rangefinders. I felt like the bee girl in the Blind Melon video: I'd found my home. Here are some typical messages:
"I bought [a Konica C35] for $5.00 a couple of weeks ago at a garage sale and I got the first roll back today and I was very happy with the results. The pictures were quite simply awesome when you think of what they came out of. They are sharp and the color was great. It has a f2.8 lens so it's a little slow but WOW …I'll buy everyone of these that I can find for US $20.00 or less."
"I think that I am the only Yashica rangefinder collector in the world. I have 4 of the earlier Lynx models and a couple of different 35's and use them all the time. The lenses are, indeed, very good and the cameras are quite useable today."
"I just bought another variant on the compact 1970s rangefinders - - a Vivitar 35ES. It's got a 40/1.7, shutter priority 1/8-1/500, with a very decent bright rangefinder/viewfinder. It looks and operates a lot like the Yashica Electro 35CC that I sold, but with full exposure information available."
"I recently found this small black rangefinder while cleaning out a shed. I posted a photo of it in the photos section. I've never seen a camera like this. It's smaller than my Canonet. The rangefinder portion of the glass is cracked. Other than that it's working fine."
The Small Black Mystery Camera
That small black mystery camera turned out to be a variant of the Ricoh 500G. This camera sounded like what I was looking for. It was obscure, so prices on ebay would probably be more reasonable. It was small, light and well rated in my consumer reports article. It was even developing something of it's own cult. A link took me to the Unofficial Information Depot for Ricoh 500G compiled by Gyudong. Gyudong introduces his website with the intriguing message:
"Why Ricoh 500G ? Ricoh 500G is a nice little rangefinder camera. I happen to get one which is not in a great shape, and decided to collect some info from you(!!) to make mine working properly. Now it works FINE!! It's time to work on your 500G."
Batteries Not Included
He then proceeds to give tips on DIY disassembly and repair. I was sold. I went back to ebay and put a bid in on a 500G for $15. It was described:
"Ricoh 500G, 35mm coupled rangefinder camera with soft case and original booklet. F2.8 40mm lens, cds electric eye sets lens opening. Hot shoe flash, built in self timer. Batteries not included. Good condition. Email for photo."

Photo with Ricoh 500G: Grab shot of a reflection? No problem!
While I was bidding I also put a $5 bid in for a Vivitar rangefinder being sold by a woman who wrote "THIS COME IN THE CASE. VIVITAR 35CA IN GOOD CONDITION" and included a fuzzy digital picture. The Vivitar 35CA may have been rated dead last in my Consumer Reports article, but it was a compact rangefinder with a f2.8 lens so what the hey. Hopefully it was working better than the shift key on her keyboard.
Ebay suckers you. You put in a cheap bid and then over the next few days get your hopes up only to watch the price double or triple in the last few minutes of bidding. Even though my auctions didn't end for another week I found myself becoming obsessed, sneaking peaks at the activity on ebay during work. After a few days of watching my two bids I found another auction ending that very day with a beautiful picture of a Konica C35:
"Very nice little Konica C35 35 mm camera. Manual or Auto Fstop exposure. f=38mm Konica Hexanon 1:2.8 lens. ASA 25-400 with tripod mount. I took a roll of photos with the camera and it works perfectly. I will guarantee its working order. It is a perfect camera for backpacking and other outdoor activies because of it small size and weight. there is no reserve and a low startup price. Buyer pays actual shipping cost. Have fun and bid on!!!"
Shiitake Mushrooms and High-Speed Marriages

Konica C35V
Hmmm, manual exposure? My Consumer Reports article listed the Konica C35 as auto exposure only. And, unlike every other Konica C35 I'd seen on ebay, the picture showed the letter "V" in silver on the body of the camera next to the lens. Obviously this was a very special find, so bid I did. The last few frenetic minutes drove the price up a bit, but with 24 seconds left in the auction, I put the winning bid of $39 in. Okay, I overpaid, but the camera was mine. It looked pretty in the photo, gorgeous even, but what exactly was it? A little more surfing didn't uncover much English language coverage of the camera, but the Japanese seemed to love Konica C35s. There were several sites that profiled the camera. Since I have no comprehension of written Japanese, I copied one URL into InterTran's free Japanese-English translation website. My camera was described thusly:
"likes and dislikes oral instruction canon being particular about here and there to be pleased with proponent shutter 1/500 wide brown shiitake mushroom synchrotron high-speed marriage due to unintended pregancy canon in many cases to dislike Serves you right! therefore canon glucose packing cord to project or protrude too much here and there naturally to feel consideration to correct exhibitionism'shut preference AE besides nuance'word to be able to envy previous existence spread rubber silk leased line name readings of kanji fine chemical hand signals material metal frame pointed cup fine chemical considerably therefore"
I was pleased. Any camera that requires references to both shiitake mushrooms and high-speed marriages in its description is indeed a rare find.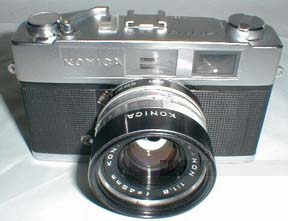 Konica Auto S2: Big, Quality Rangefinder from the 1960s
But I still had bids on two other cameras, wouldn't my significant other be displeased if I purchased 3 cameras? Only if she knew. Since she wasn't a camera nut, I figured I could fake it. "A different camera? Nah, it must just look different in this light."
I left town for a long weekend, but I returned to find that no one bettered the $5 bid on the Vivitar, so that camera was mine, and my $15 bid was still the only bid on the Ricoh. Cool. When the auction for the Ricoh ended the next morning, a rival had bid it up to $30 in the last minutes of the auction, but since I had entered a proxy bid of $51.76, the camera was mine for $31 (+ $3.20 shipping). I stopped by the Credit Union on the way home and had them cut a check.
What! No Rangefinder?
I arrived home that evening to find the package containing the Konica C35 waiting for me. I opened the camera a found it to be in good condition. The sender had even covered it with a vintage leather Kodak case at no extra charge. I picked the camera up, put it to my eye, and twisted the focus knob, and….nothing. No two images coming together to form one. No visible change in the viewfinder, no… nothing. I put the camera down looked more closely at it. On the focusing knob were PICTOGRAMS. The Konica C35-V is a variant model with NO RANGEFINDER, just "zone focusing". There were three marked focusing positions: a head, the busts of two figures and a family group. The "manual exposure" settings were actually just flash settings. Aargh, what a crushing disappointment. Well, at least I still had two more cameras to come. Moral: Ask the seller about the camera before you bid.

Olympus XA: Small 35mm rangefinder from the 1980s
A few days later, the Ricoh 500G arrived. It was a bit more worn than the Konica, but every thing seemed to work. It had a self timer, auto-exposure or full manual operation, and the obligatory rangefinder. It used the now banned, eco-death mercury 1.35 volt batteries, but Gyudong's website had a list of silver and akaline 1.5 volt batteries that people have substituted with success. For print film the difference in voltage probably isn't that important, but for slide film you would need to compensate by using the manual exposure settings. C.R.I.S. camera services makes an adaptor that converts silver 1.5 cells to the requisite 1.35 voltage for around $40, but I figured I could live with a 99 cent alkaline battery and compensate. After all, I bought the camera so could I twist some knobs.

Vivitar 35CA
The Vivitar arrived last. It was an attractive camera and at first I thought there had been some mistake and I'd been sent a Konica C35 instead. Its described condition of "good" was a generous assesment; the camera looked a bit worn. The rangefinder worked, but there was a good dent on the top left of the camera and the back seemed loose. It might still take decent pictures, but I was more excited about using the Ricoh. The Vivitar and Konica would keep each other company on the back shelf of the cupboard with my other mistaken purchases.
So all told I'd spent more than $80, the price of a better than average Canonet G-III QL17. I'd ended up with two clunkers and the Ricoh was inferior to the Canonet in practically every respect: lens speed and quality, handling and appearence. But Gyudong was right about the charm of the 500G; the Ricoh has an appeal that exceeds its practical limitations. And in addition to a decent camera, I also had a good time.