Text and Photos By Rob Freeman and Michael Cooper


In mid September, 2002, three American friends from Dartmouth College - Rob Freeman, Chuck Davis, and Michael Cooper, hiked across Corsica on the "Mare a Mare Nord" hiking trail. The Nord crosses from northeast to midwest Corsica, from the beach of Moriani (just below Bastia) to the resort town of Cargese, above Ajaccio. Since English source material on Nord is sparse, we decided to post this account of our journey. In it, we describe our 8 day trip and give some practical tips on maximizing your walking adventure in Corsica.

Why Hike in Corsica?

Corsica is one of the world's great destinations for hiking. The French call it "L'ile de beauté" (meaning more or less, The Island of Beauty), and they aren't wrong. It's spectacular in every sense of the word. It's a timeless walk into another world, of biblical beauty and the authentic culture of France and Italy that is simply no longer found on the Continent.

Corsica is tailor-made for a walking trip. It is compact, yet features an incredible variety of climates and scenery. In the span of a day, you can cross from Mediterranean beach to verdant green valley to rocky mountain-tops. Corsica also combines the best attributes of both undeveloped and first-world destinations. Undeveloped in that the island's interior is rustic, unpopulated, and unspoiled. Ancient villages cling to the sides of valleys, and locals live a quiet, subsistence-style life. First-world, because you will eat fine food at night, sleep in a bed in a spotless inn, and drink pure mountain water from village fountains. Your cell phone or village phone booth will allow you to check in at home, and you are only a few hours from many of Europe's population centers. Corsica's hiker inns, called "gites", are expressly developed to cater to the walking crowd, allowing you to travel with minimal gear

Which Trail to Hike?


As Art Simon points out, good information on the Corsican trail system in English is nearly impossible to find. We initially settled on the "Mare a Mare Centre", based on the Lonely Planet Guide and Art's excellent description. We also considered hiking part of the G.R. 20 - the most famous hiking trail on the island - either from the south at Bavella or north from Vizzavano, and then joining up with the Centre. The primary problem with this is that the gear requirements for the G.R. 20 are much more complex - most G.R. 20'ers carry tents, sleeping bags, cooking gear, food, water, etc., because they have to.

Day 1: The gite of Luna I Piena

We intended to travel light, and also wanted more comfort (such as a decent meal and a bed) than the G.R. 20 seemed to offer. In the end, we settled on the Nord, because it runs through the most diverse scenery and prime mountainous areas of Corsica, and also because it seemed do-able on our 8 day schedule, even though it is listed as a 10 or 11 stages hike (a stage or "etape" is considered a one day's hike). Anyone considering a Corsican trip should also ponder the Mare e Monti, which descends the northwest side of the island. We met a French Couple completing this trip that raved about its beauty and accommodations. It is reputed to have the best views of all Corsican trails, but hugs only one side of the island.

Planning Resources


Like Art Simon, we relied on the Lonely Planet Guide. The Lonely Planet Guide gives an excellent overview of Corsica and hiking possibilities. It is skimpy, however, on its treatment of the smaller inland villages. A book with better descriptions of the Corsican interior is the Rough Guide to Corsica. Both are available at Amazon.com. Fortunately, one member of our group lives in Paris, so we also had access to French publications. A popular French guidebook with good coverage of restaurants and hotels is called Guide Routard du Corse (routard.com). For walking, the guidebook from Corsica's park service called Corse, Entre Mer et Montagne is indispensable. You can buy this in Paris, or at a bookstore near the airports in Corsica if need be. Don't set off without it and the appropriate topographic maps for the trail you intend to hike. The maps are published by the France's IGN, the Institut Geographique National.

Travel Arrangements


We purchased open-jaw plane tickets arriving in Bastia (northeast tip of the island) and departing from Ajaccio (southwest). This placed us near the trail-heads on arrival and departure. These tickets cost us no more than regular tickets, and saved us both in trip time and on-island travel costs. We recommend this for anyone doing a Mare a Mare trip. The Bastia airport is cleaner and appears more organized than Ajaccio. However, Ajaccio has the advantage of being right on a great beach, literally 100 yards out the door of the terminal. This is a nice benefit if you have some time to kill before your flight.

Our Trip

Sat. Sept 14th -- Stage 1

Day 1: The green hills above Moriani are covered with villages
I (Rob) flew from the US and arrived in Bastia at noon. Chuck had flown in from the U.K. the night before, which allowed him to pick up food and topo maps at a shopping mall near the airport. He met me at the airport, and we jumped in a cab for the 20 kilometer ride to the trail-head in the beach village of Moriani. The taxi cost 40 Euro's (a Euro is roughly equivalent to a U.S. $) and took 30 minutes. Moriani is a nice little town, and there was a 'Champion' supermarket right at the trail-head where one could provision if need be (closed from noon to 3 pm.) We ate in a local café, walked on the beach to touch the sea, then at 3 pm set off up the trail, which starts up a paved road right from the main village center.
The trail wound consistently up-hill, and for the next three hours we walked a combination foot-path/ small paved roads through a series of small villages, each with a church whose bells tolled every hour. It was strenuous, and I began to get a sense that Corsican walking was for those that love steep terrain. We climbed about 2,000 vertical feet in those first three hours. Just before dusk, we located the small gite of Luna I Penti in a bend in the road. Two couples were staying in the gite, and both were travelling by car. We were the only hikers, which indeed was to remain true for most of our hike. We rarely saw other hikers on the trail, and the gites were largely empty as well, perhaps because we were travelling in the shoulder season of September. High season is July and August, but the best months to hike in Corsica are June and September.
Dinner that first night at Penti set the tempo for evening gite meals - simple cuisine made up of local ingredients -- tomatoes and beet salad, fried vegetables, omelets with cheese and mint, and an apple for dessert. After a few days, Chuck began to dread the omnipresent "omelette à la menthe" for supper.
Sunday, 15th --Stage 2

Day 2: The trail runs right past the doors of Reparata
We left Penti at 9 AM through the small town of Santa Reparata, where the local bread truck was serving a small gathering of villagers. They cheered us on - the trail ran right past their front doors. Little did we know that we were about to have our hardest, most frustrating day of hiking and nearly wind up spending the night out in the cold.
Just past the village, the trail crosses a stream and forks. The left fork had a detailed sign indicating our destination of Pianellu. The topo map and guidebook indicated we should go right, however. Both forks carried the tell-tale orange slash. We were about to get our first lesson in Corsican trail finding.
We went right, and followed a well-trodden trail up the stream. About 400 meters up the valley, the orange slashes turned up a faint path on the left, with the first slash about 30 yards off the trail. We missed it, and continued up the main path along the stream, eventually crossing a farmer's gate. The path appeared to be going in the correct direction, and we made the critical error of persisting on, even though we could no longer find an orange slash. Foolish mistake. The trail continued to fork and climb steeply up a ridge, and later tuned into an animal track, branching numerous times. Two hours later, we realized we were hopelessly lost far up on a high, rough ridge. Scratched by brambles and having fallen numerous times on the rough, steep hill, we turned back, finding ourselves back at the original trail fork by noon, exhausted and with 7 hours left to hike. Lesson #1: when in doubt in Corsica, do not improvise.

Day 2: Ange Guiducelli runs the delightful gite in Pianellu
Finally back on track, we had more trail-finding difficulties an hour later. Reaching the high ridge of the Bocca Frate Mortu (1 h 30 min after Reparata), you must turn right and go only a few hundred yards along the ridge until you see some blazes (orange slashes) bearing off to the left. Take this left, which will lead you along the side of the ridge to the church of Saint Alessio. There is a larger trail that continues straight on top of the ridge heading more north, which is also blazed in orange. Watch carefully for the left turn! We found it, and descended past the church to Quarcetto. After re-filling our water bottles at a house, we climbed the last ridge of the day at the Col de Muteri. Here, the trail enters large fern covered clearings on the ridge top, with the orange blazes often hidden under plants, and multiple paths leaving each successive clearing. By now, we were like blood hounds sniffing for orange paint, and we repeatedly lost and regained the trail until we descended to the delightful village of Pianellu and its beautiful gite right in the middle of the village square, just as darkness fell. On crossing the river and gaining the road just before Pianellu, we walked the road directly to the gite and avoided taking the trail, which needlessly climbed a steep hill just to the right of the village.
"You're right on time," said the accommodating host of the gite, Ange Guidicelli. When we told him of our day, he laughed and replied that everyone gets lost on the 2nd stage, and it's best to count 12 hours for the day's trip. Ange is a polyphonique singer, and he regaled us with singing while fixing us our best meal of the trip - herb-roasted chicken and potatoes with cheese. The gite was impeccable - a former schoolhouse and apparently the social center of the village; we were the sole guests. Ange opened the bar and we shared cocktails. Then he helped us make arrangements for the next night's stay. We especially liked the Corsican beer made of chestnuts called 'Pietra'.
Monday, 16th -- Stage 3
The next morning Ange opened the village church and showed us the repainted interior, then bid us farewell. He had fixed us a nice bag lunch with two sandwiches each and an apple. Dinner, bed in the gite, breakfast, and bag lunch runs from 35 to 40 euro's total per person. Don't expect too much of breakfast (traditional French breakfast of toast and coffee) or bag lunch (which is usually half a baguette with cheese and/ or charcuterie and an apple.) A hiker walking for eight hours per day is running a caloric deficit based on this menu, so I recommend supplementing these rations with snack foods you should bring with you and supplement as possible on the way.

Day 3: The ruins of Alando have a great vista
A tip for the gite - it's well advertised that the gites don't provide sheets. You should bring a "meat sack" with you, which means a sheet sewn together on the side and a pocket for the pillow, and available at most camping stores. I took one and loved it, since it only weighed 6 ounces. The beds are clean and generally have plastic covers. My partners brought light sleeping bags and were very happy with those as well. Sleeping bags also provide a measure of safety since you could bivouac in one if you should become hopelessly lost or break an ankle.
Here it should be mentioned that sticking to the trails is of vital importance, and hiking only in daylight hours a cardinal rule. Often a foot astray can lead you over a cliff or into an unseen fall, day or (especially) night. When we reached Corte we heard the story of an English hiker who had gone missing for over a month on the G.R. 20 and apparently this is a common occurrence. Don't hike alone and don't hike in the dark.
Along and back to the gites. They have no towels (or soap, for that matter.) For drying after bathing, I would recommend a small back-packing towel that can be wrung out after use. Hi-tech fast drying lite-weight towels can be purchased in any camping store, and you'll appreciate having one.
The walk to to Sermanu was a breeze after the prior day's trial by fire. Following a brief climb from Pianellu, we descended into a high valley system. After lunching on a high hill with vistas in every direction, we descended into a major valley sprinkled with villages. After the hamlet of Alzi, the trail is meant to turn left off the road and take a short-cut to the convent near Alando. We found the orange blaze marking the trail as it left the road, but the trail descended into a pig farm and disappeared into a blackberry thicket.

Day 3: The 11th century chapel of San Nicolao, at Sermanu
Note on pigs. Inland, away from the coast, you can often imagine that the island is an open pasture for pigs and cows. It is. You can even encounter boars. The pigs tear up the ground, usually they're after the ever-present chestnut. Chestnuts were the main staple of Corsica for centuries, replacing flour. Currently the island produces about 3000 tons per year, less than 10% of pre-industrial production. You will hike through many abandoned chestnut groves with trees that are many hundreds of years old. In fall they are heavily loaded with chestnuts. There are also fruit trees in and around every village loaded with apples, pears, and peaches.
After 30 minutes of searching for the path at the pig farm, we returned to the road and walked the long way around to Alando on the black-top. You should not be concerned about walking the interior roads in Corsica. Roads are sparsely traveled; and you may see only a few cars in an entire afternoon. They also give your feet a rest after hiking the uneven and rocky trails. Nonetheless, when you hear a car, get OFF the road. The French love to play chicken with pedestrians.

Day 3: The frescoes in the chapel are from the 15th century
By mid afternoon we wound up in Sermanu. The gite is about 500 yards above the village, and there is a small foot-path that runs straight uphill from the side of the village church and gains the high road where the gite is located. Use the path and turn right. The gite is on the right about 300 yards down. The gite was locked, and we decided to venture down to the renowned 11th century chapel of San Nicolao, with its 15th century frescoes, about 10 minutes below the village. A villager told us that technically the church was closed to the public. "It's being restored," he said, "so just open the door and go in." The interior of the church was largely torn out, but the frescoes in the nave were beautiful, though it took a flashlight to see them. Back at the gite, we again found ourselves the only guests, and were shown to our clean new rooms by the owner. Our friend Michael showed up in a cab just before dinner. He had flown from Paris to Bastia that morning, taken the fabled and inexpensive mountain train (La Micheline) to Corte at mid-day, and hired a cab for 30 Euro's to bring him straight to the gite from Corte. We were served the typical gite dinner by the owner and his wife, who then left us alone as they crossed the street to their home.
Note on the train. La Micheline is said to be one of the great train rides on this planet and it is. It's a narrow gauge train that runs between Bastia and Ajaccio, via Corte. It winds its way up through the mountains and down again, and in season it's filled with hikers. Cooper's two-hour run between Bastia and Corte cost about 10 euros.
Tuesday, 17th -- Stage 4

Day 4: The water in the villages is fine. Come on in.
The next morning, the gite owner advised us to cut two hours off our walk by simply hiking the D41 road as far as San Martino, then picking up the trail. We chose to ignore his advice and started down the trail, since it passed the church of San Nicolao that Michael had not yet seen, and also went through several scenic villages. We lunched in Mercurio by the village fountain, then ended the day crossing a high, dry ridge with dramatic views of Corte.
Corte is the major town in Corsica's interior, a university town and the erstwhile capital of Corsica during its short stint at independence during the 19th century. We had high hopes for a good meal and a bit of nightlife after a few days of omelets and villages with only a dozen or so inhabitants. We had booked a room in one of the few downtown hotels, Hotel du Nord et Europe. The hotel turned out to be a noisy dump on the main drag, despite being recommended in Rough Guide. The nicest hotel in town, Hotel de la Paix, was full. We provisioned for the next day, buying some local artisans sausage, goat cheese, fruit and bread in a market, then dined out at a recommended restaurant U Museu, which boasts a huge terrace built into the side of the town's citadel. The views were excellent and the food quite good - fish soup, boar stew and a local red wine.

Day 4: Nightlife and chestnut beer in Corte.
Note on food in Corsica. You can gain weight, even if you're burning calories like a hiker does. The cheese is strong and pungent, and the pork sausage is very tasty. The authentic island variety is free of preservatives. Make sure what you buy is made of island-born, island-raised pig. It's more expensive but worth it. Life's too short to eat cheap pig.
Wednesday, 18th -- Stage 5 and 6
Up at 5:30 AM in order to do a double stage day. We catch a coffee and tart at a local bar with the local village work crowd. The friendly bar-keep greeted us with an offer of a free eau de vie. We politely declined and headed out through the gates of the citadel into the Tavignano Gorge, spectacular at sunrise. This dramatic gorge is an easy four-hour walk through some of Corsica's best scenery. The sides of the valley are stepped with ancient abandoned vineyards and olive groves. The mountains light up with early morning sun, and we stop for a snack at a high swinging bridge crossing the river. Then we continued on to the refuge at Sega. This is one part of the hike where you definitely don't want to fall off a cliff.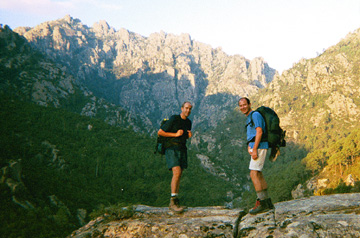 Day 5:The spectacular Tavignano gorge in early morning.
My research had indicated that the hut at Sega was a small mouse-infested affair with no food, no blankets, and no warden. Even the gite managers had warned us against staying there. Imagine our surprise when we found a sparkling brand-new multi-story hostel, with solar power, huge kitchen and dining room, and a menu posted on the door.
Alas it was locked up, with no staff was in sight. I am unsure if the refuge was closed for the season, or merely locked at mid-day. In any case, it would be worth staying there if possible if only for the magnificent setting right on the crystal clear rushing river. We swam and lunched near a pool on the river just above the inn, the water so cold - won't go into details - you could only stay in for a minute at a time. The refuge/ inn has bathrooms, cooking stoves, and water station accessible on the outside.

Day 5: The suspended bridge marks half-way point to Sega.
At 1 pm we pressed on for the second stage of the day. We climbed out of the gorge through alpine forest that gradually gave way to bare ridgeline. We topped out on the Col d'Arinella at a shepherd's hut (we had bought some of his cheese in Corte), with a marker commemorating a WWII parachute drop zone, "Le Perroquet". It was here that the resistance received parachute drops from the allies.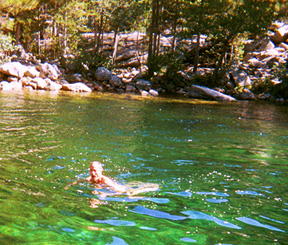 Day 5: Sega is a great spot for some cold swimming.
Now we had trail problems, as the orange slashes continued down a dirt road to the left, while the guidebook indicated the need to hike straight over the top of the ridge. We again chose the guidebook, and followed a faint path straight up over the top, finally locating some orange slashes that led us to our first views of Calacuccia and its dammed lake.
This valley is bone dry and rocky, a sharp contrast to the green Tavignano Gorge. After several painful hours of descent, we reached the dam of the lake, which we crossed and continued another half-hour around to the hamlet of Sidosi. By 6 pm, we found our inn for the night, the Convent of St. Francis, where we had reserved a large triple room (in fact a cell with stone vaulted ceiling) and private bath for 50 Euro's. The convent is a former monastery, and it is quiet and clean, perfect for a good night's rest. Outside there's a plaque that reminds visitors that a number of independent minded locals were murdered here in the 19th century.

Day 5: New friends up at the Col d'Arinella
As we did each day, we washed our hiking clothes and left them out on a line in a futile effort to dry, then walked out for dinner out at the local restaurant Auberge du Lac about 15 minutes away down a footpath through a horse pasture. There was another excellent-looking restaurant right next to the Convent, as well, called Casa Balduina.
After feasting on duck and boar stew, we called a local taxi from the restaurant and arranged for a morning pick-up. It was a part of our plan to use a cab to cut half a stage off the next day's walk, leaving another one and a half stages for that day.
Thursday, 19th -- Stage 7 and 8
After breakfast at the convent, we loaded up in the cab that had shown up promptly at 7:45 AM. Concerned that we had little to eat, just a piece of sausage and 2 apples, we saved some of our breakfast bread and stuffed it in our packs. The cab whisked us 7 miles to the Poppaghia parking area - cost 18 Euros. The cab driver, from Albertacce, said he often carries hikers and also ferries their packs between stages.

Day 6: Evisa is a great place to spend an afternoon.
Lonely Planet indicates that the gite at Verghio is crowded and unsavory, perhaps because it is one of the overnight stops for the G.R.20. Therefore, we pass by and head towards Evisa, 3 hours away. The trail skirts the right side of the parking area at Verghio and quickly descends through thick maquis, often difficult to find. The hiking is tough, with the trail following a dry rocky creek-bed. Since it is hot and dry, we become interested in a "natural swimming pool" shown on the map. Will it be another choice swimming spot like at Sega?
As we proceed, it seems that someone has turned on a hiker spigot, and the trail fills with day hikers from Evisa. The pool turns out to be an overused tourist spot surrounded by French, English and Germans with picnic baskets and toy dogs on leashes. I jump in the freezing water and am the only person swimming, despite the crowd. Changing back into clothes is problematic, but soon we are hiking again on a "nature trail" with descriptive signs through a chestnut forest, along with dozens of other walkers. After days of lone hiking, it's a weird sensation.
We hit Evisa at 4 pm, and the sunny bars on the main street are decorated with firm limbed hikers from every corner. The village is inviting, and we resolve to spend the night there. First we find two very decent rooms at an un-rated hotel at the very top of town - single and double for 75 Euro's total, then make dinner reservations at the Hotel du Centre, according to Routard the best meal in town (and also reputed to be the best place to stay.) Shower, laundry, and off to see the sun set into the ocean with cocktails from the noted terrace bar of the classy Hotel Aitone, then on to our feast at Hotel du Centre -- including gambas (large prawns) and game-bird salad, with fabulous wine. The waitress laughed when we ordered two full meals apiece. Four stages in two days will make anyone hungry.
Friday, 20th -- Stage 9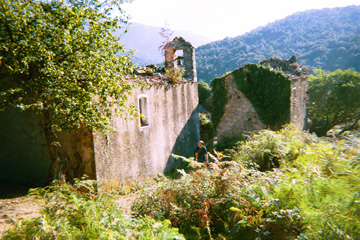 Day 7: The abandoned village of Tassu.
We breakfast with the friendly bar-keep just across the street from Hotel du Centre. His porch has a magnificent view out across the valley and, on the horizon, the coast at Cargese. The boulangerie next door opens at 9 AM, so we wait and buy bread to go with the sausage and cheese we bought in Evisa's dry goods store. Then, it's a 1 1/2 hour walk to Marignana.

Day 7: An early morning beer with Monsieur Jean in Marignana.
On the way, we discover the abandoned village of Tassu, complete with roofless church, but altar and church bells still intact. Inaccessible by automobile. Bypassed by the modern world, like so much of Corsica.
We stop in Marignana for water, under a monument to one of the town's sons who helped bring civilization to Africa and was rewarded with death. There we met village local "Monsieur Jean", a short stocky man with a moustache who's so friendly that we invite him into the local pub for a morning drink. He seems used to the idea. The innkeeper gives him a look as we enter and the quick beer turns into a lively discussion of the town's history - the president of France apparently slept across the street in the magnificent but abandoned town house that once served as a hide-out for the first group of resistants dropped off on the island by a submarine; the Empress also reportedly slept there - and we also learned the fate of Tassu. We left reluctantly at 11:15, steered onto the trail by a woman who points it out from her balcony, teasing us that "All roads lead to Rome."
What followed was 6 hours of dry rocky slogging, steep narrow trails not helped one bit by the morning beer. There was little shade and no village to re-fill water supplies, although we did see several signs on the first half of the stage pointing to springs. We hesitated to drink from any spring or creek in Corsica due to the profusion of cows, pigs and goats that were literally everywhere throughout the hike, even hours away from the closest villages. This was the only stage where we felt the need to carry more than a liter of water each, and in this stage, 3 liters per person would have been about right. At about 3 PM, we sat in a small clear stream to cool down, then, thankfully, on to the gite at 5:30.

Day 7: I ts hot and dry after Marignana. Take Water!
After drinking several quarts of spring water from the tap, we discover that the gite at E Case is a small stone hut with pleasant yard and dining table outdoors under a shaded canopy. The bunk room is located upstairs, and a small cave-like bathroom with rustic facilities located in the bottom. This gite is really just a shepherd's shelter, water is rationed and it is the only option in the area for the night. Nonetheless, cold beer is readily available.
Note, previously, on the trail, we met a group of English hikers that had arranged for a van to pick them up in the village of Revinda and take them onward to Cargese.
The gite gets its water from a limited cistern, so the quiet female manager allowed us to drink but forbade any bathing. This was a disappointment after the hot day, so we quietly took a "canteen bath" out back, and were joined for dinner by a young French couple; the only other guests that night. Dinner consisted of vegetable soup, macaroni, and pork chop served with the best bottle of wine of the trip, a rich red called "Mare e Monti," and a bargain at 4 Euro's for the bottle. Generally, we weren't enthralled with Corsican wine. Patrimonio, the ubiquitous choice, is strong and … corse.
Saturday, 21st -- Stage 10

Day 8: The gite at E Case is a shepherd's hut.
Up at 6:00 AM and hiking by 6:30. We need to make Cargese around noon so we can catch a cab to the airport at Ajaccio and make afternoon flights home. No need to worry, though, as we hiked the last stage in just 3 ½ hours, despite the guidebooks given time of 5 hours. This stage runs through some small, rough-looking farms, crests a hill, then turns downward to Cargese.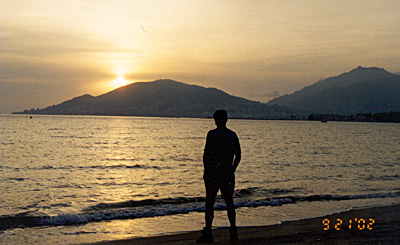 Day 8: Sunset at the airport beach in Ajaccio.
There are beautiful views of the sea and village of Cargese from various vantage points along this last stage. Arriving in Cargese, we hiked past the Hotel Bel Mare, then turned right down a small foot-path to a rocky cove on the shore, to take a swim in the cool Med and clean up before a good lunch on the terrace of Bel Mare. The waiter called a cab for us, and by 2 PM we piled in for one-hour ride to the airport for 120 Euros. Note, this was a bit pricey, but there were 5 of us in the van, as we were joined by the French couple from E Case. A normal taxi between Cargese and Ajaccio is supposed to cost about 80 Euros.
The airport was swamped with European tour groups and hopelessly disorganized - like a final caution from the mountain gods to mistrust the paradise of civilization regained - but somehow we fought the mess and made our flights out - the end of a great trip.
Practical Recommendations
Here are our tips for your hike if you are doing a Mare a Mare.
Take the bare minimum

You will end up dreading every pound on your back. You can take almost nothing on the Mare a Mare and still live very well during your stay. Here's a bare bones list. I believe Art Simon carried even less.

2 or 3 capilene/ polyester t shirts - they should dry quickly so you can wash them at night. Don't take cotton! It will never dry and be heavy. Underwear and socks as needed - 3 pairs each, perhaps. Good socks are critical.

1 pair shorts
1 pair nylon long pants for dining out .
1 pair sandals (make 'em light!)
Soap for clothes/ self and hiker towel
Silk/ cotton sleep sack
Small headlamp.
Light fleece or vest - it gets cool at night
Light rain-coat - We never had a cloud but villagers told us of frequent rain in the summer of 2002. The rain-storms are generally characterized as brief. The East is damper than the West.
Camera (don't count on finding film to buy on the trail)
Any medication you might need. Bring a first aid kit, including what you would need to treat a sprained ankle, cold & hot packs, anti-inflammatories, painkillers, etc.

Don't Get Lost, by:

Always following orange slashes. Numerous small footpath's and animal trails cross the Mare a Mare. In some areas, digging by pigs has completely obliterated the path. If you have gone more than 5 minutes and haven't seen a slash, turn around and find the last one, then route find from there.

Don't rely only on orange slashes. There are several points when other trails cross the Nord that are also marked with orange. Use your guidebook and stay vigilant. I took a Garmin GPS and found it was not useful. First, we couldn't get it to match up with the coordinates on the European maps. Second, we found you could do better just using a compass and common sense. When you lose the trail, you are often no more than 50 yards from it, and with the large map scale, using the GPS is pointless.

RESERVE at the inns and Carry a European cell phone if you have one.

Always make sure to call ahead to reserve your spots at the gites and then call again to reconfirm the day before. This is also a good way to get current local information and advice. Don't expect the locals to speak English.

Both my hiking partners had cell phones and we put them to good use by calling for reservations. They work just about everywhere on the trail. Some villages had phone booths, but about half of them I checked were out of service. Many of the phone booths were the old type that accepts coins. However, the coins they accept are French francs, which are out of circulation. Others required a phone card that you can buy at the airport.

Make a special effort to interact with the Corsican People.

Many of our best experiences were impromptu experiences with local villagers. Because Corsica is a popular tourist destination, I had anticipated that Corsicans would be quiet and weary of foreigners, as many of the French in Provence seem to be. I was wrong. Corsicans are friendly, engaging, and most seemed delighted that we were passing through. After leaving the coast, there is no sign of tourism in Corsica, and in fact few signs of people at all. In general, the Eastern half of the trail seemed quieter. The farther west we went, the more hikers there were.

Make up Your Own Itinerary

Even though there is a published list of gites for each stage, there is no need to do the trail "by the book." There are alternative accommodations all along the route. You can also use taxi's to cut stages, as we did, or to carry your baggage. We found a gite not listed in Quarcetto (Stage 2), a hotel in Bustanico (Stage 3), and numerous hotels in Evisa and Corte. Top gites were I Penti (Stage 1), Pianellu (Stage 2), and Sega (Stage 5) although we didn't stay there. Less recommended were Marignana (Stage 8) and I Case (Stage 9). Best village was Evisa. You can buy food at Moriani, Corte, Evisa, and Marignana. We didn't feel overall that the gite's bag lunches were a good value at 5 Euro's, and you should supplement them at the least, and skip them on days when you can.

Travel in a Small Group.

Europeans seem to prefer walking in large numbers, and the few other groups we saw often consisted of ten or more people. While this may make logistics simple, it un-necessarily crowds the gites and small villages, thus reducing the possibility that you will get to see and talk with the locals. The gites are small and the owners told stressful stories of having to tend to groups of twenty or more who would occupy the gite in a large group. Of course, when a group of this size takes up the gite, others can't stay there. I'd think a group of two or three is about right, and makes life comfortable for everyone. It also makes for getting acquainted with Corsicans.

Take Care of your Feet.

This may seem obvious, since it's a hiking trail, but I realized after our second day on the trip that the key to finishing the Nord was to keep our feet from turning into hamburger. The trail is rugged and uneven, and is most often characterized as rocky scree and talus. It is never level, and over time this takes a toll on your feet. Good boots, well broken in, are a must, as well as appropriate patches, creams, etc. to care for feet and possible blisters. On a similar note, the times given for hiking each stage are mostly very accurate, and it is difficult to beat them. If you want to do double stages, and also on Stage 2, count on an early start. Route-finding is difficult or impossible after dark on the trail.
Page maintained by Art Simon
Back to Art Simon's homepage.