Text By Art Simon
Photos By Andrea Beck and Art Simon

Touring Southern Europe by Motorcycle on the Cheap

Highway CA531 between Grazalema
and Zahara de la Sierra.
For most Americans, touring Europe by motorcycle means a $5000 blast through Norway or the Alps on a new, immaculate BMW with an organized tour company. Organized trips are advertised as the trip of a lifetime, as they should be if you're blowing a lifetime's savings. There's a cheaper way: My girlfriend and I spent a week in Andalusia touring the route of the white hill towns on a rented Japanese mid-size motorcycle for less than $900 total (including motorcycle, gas, food, drinks, hotel, souvenirs, everything for the two of us except airfare). We ate out three times a day, drank even more frequently and stayed in clean, cozy, comfortable one star hotels. Serious cheapskates could do it for less. We don't speak Spanish and most Spaniards don't speak English, but armed with some guidebooks, a phrase book, patience and a sense of humor we had a great time.
Need more convincing? Norway is a beautiful country where a beer costs $5 and it rains a lot. Andalusia is a beautiful destination with ribbons of twisty, immaculate asphalt through gorgeous mountain scenery, national parks and lovely white villages. A beer at the village bar will set you back seventy-five cents and you can leave your rain suit at home.

Riding through Setenil.
We booked a Suzuki GS500 for a weekly rate of $350 from Turarche in Malaga (tel 95 231 80 69, Fax 95 231 63 42). They have a range of bikes from mopeds to Gold Wings and provide helmets, locks, gloves and well-used, greasy soft luggage free of charge (bring some trash bags to keep your clothes clean). The winding mountain roads of the white hill towns were most comfortable at a 40 mph pace, so a big bike would have been overkill. Had Turarche offered them, I'd happily have taken a large scooter like the Honda Helix or Suzuki Burgman. A smaller bike is easier to park in hilly towns with narrow streets and makes u-turns (we invariably missed our turn off) less stressful. Mainly though, I booked the Suzuki because it was the cheapest ride that would carry the two of us. No international drivers license was necessary. Our California license was sufficient. While liability insurance is included, Turarche is unable to offer comprehensive insurance on the bike, so bring a gold card that offers vehicle insurance.
While we spent a full week touring the region, you could comfortably explore the area in 3 days. Add a couple of extra days if you want to see the Fiesta de la Virgen del Carmen and bull running in Grazalema (described later). There are plenty of interesting trips in Southern Spain to extend your trip by another week or more.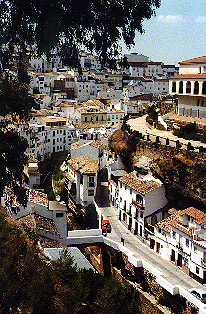 Setenil
Starting Out
When we arrived on Wednesday at Turarche at the Malaga bus station to pick up the Suzuki, we were offered a free upgrade to a Yamaha XJ600. While the Suzuki was in good shape, the Yamaha had a larger, more comfortable seat. With 20,000 km on the clock it wasn't brand new, and you could see scratches from tank bag use, but it was a solid comfortable bike. Why the free upgrade? It wasn't because I was writing a travel article. I didn't even know I was writing an article yet. It was just the first of several acts of generosity of the rental agency. They're great people, and I can't recommend them too highly.
The town of Malaga has little to recommend it other than an international airport and a great motorcycle rental agency. The nearby beaches are choked with high rises and littered with pink, corpulent British package tourists. The city is a maze of traffic circles and one way streets, similar to the webs spun by spiders on LSD. The first order of business was to leave, and amazingly enough, I was able to find the road out of town without a wrong turn. I was not able to repeat this navigational feat when I returned.
The A357 autopista out of Malaga is nothing special, so it was a relief to get onto A366, a two lane stretch of black-top outside of the town of Coin. We stopped for lunch at a "Venta", a road side restaurant that serves regional food. We ate a pork roast better than your grandmother's with bean stew, salad and six cokes (well, it was warm) for well under $20.
Ah, Spanish Food!
Ah, Spanish food! I love Spanish food, but vegetarians may not. While the Eskimos may have seven words for snow, the Spanish have over a dozen for the various ways you can slice a pig. Spanish ham is the world's best, and the ham of the southern hill towns is Spain's finest. Breakfast is usually a strong coffee (though not infrequently a glass of beer or wine) with toast, usually served between 9 and 11 am. Lunch is the big meal of the day and can be had in the early afternoon between say, 2 pm and 3:30 pm. Ask for the "menu del dia" a two course meal normally value priced at seven or eight dollars. For dinner, try bar hopping and ordering tapas. Tapas literally means "lids", and originates from the tradition of serving a beer with a small plate on top to keep the flies out. The plates would have a small appetizer of ham or olives. Tapas has grown into a full fledged Andalusian cuisine. For about $2 you can get a small plate of meat, cheese, eggs, seafood or (infrequently) vegetables. While we started trying to translate the names with our menu reader, it became easier just to pick things out at random. Although Spaniards don't usually start eating dinner until after 10 pm, it's acceptable to order some tapas as a snack from around 7 pm on. With a little luck "dinner" can turn into a five hour bar hopping trek.

Arcos de la Frontera
After lunch, the road really started to get interesting near our first white hill town El Burgo. We gained elevation as we continued on the A366 through the national park in the Sierra de las Nieves, with expansive views of granitic slopes and the occasional white hill town. When we arrived at our destination for the first night, Ronda, we were on the backside of town which gave no clue as to its' dramatic cliff top position.
A Phallic Stump likened to Bill Clinton
Ronda is a nice town with a spectacular setting, but it is well touristed. Don't get me wrong--I'm a tourist, I like tourists and tourism, but beyond a certain density, tourism can make a place seem bland and uninteresting. After the night in Ronda, it felt good to hit the open and winding MA555 the next day as we traveled towards the prehistoric cave paintings at La Cueva de la Pileta. The cave was discovered on private farm land and offers the average Joe an opportunity to see real paleolithic cave paintings. The entertaining tour includes visits to some scratches of calenders, deer, horses, seals and fish. Our guide also pointed out some amusing stalagmites, one with a good resemblance to Ronald Reagen's head and another a phallic stump likened to Bill Clinton. After the tour we went back to the bike to discover, Damn!, our gloves had been stolen from the tank bag. A closer reading of the guidebooks revealed a warning not leave valuables in your car in the remote parking lot. Moral: Next time, bring the luggage inside. It could have been worse.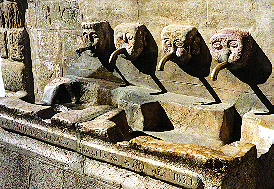 Fountain in Grazalema
After a great lunch in the town of Montejacque, we continued on the twisting asphalt of the MA505 through stark granite hills of the national park, punctuated with the occasional picturesque farm. We briefly caught the main A376 road out of Ronda, before turning towards Grazalema along the A372, a narrow winding road through olive trees lined with white concrete blocks. Grazalema is a picturesque mountain town surrounded by pine trees and flowered meadows that reputedly receives the most rainfall in Spain. (Maybe it rains twice a year then?) We were lucky to arrive during the week of the Fiesta de la Virgen del Carmen. While nothing was happening on the Thursday we arrived, we made plans to return on Sunday for the fiesta and Lunes de Toro, the "Monday of the Bull".

Typical two way street in
Arcos de la Frontera
The narrow streets of Arcos
On Friday, the third day of our ride, we continued on the A372 through more pine trees, flowers and mountain scenery through the Sierra del Grazalema national park. As we descended past the town of El Bosque, the road straightened, we picked up some speed and averaging 50 or 60 mph made good time to our next night's stop: Arcos de la Frontera. Like Ronda, Arcos has a spectacular mesa top location, but it is much less touristed. Arcos was positioned to be impenetrable to attacking armies, and it was very nearly impenetrable to us. While the streets of all Andalusian hill towns are narrow, Arcos has the narrowest of all. The main road into the old town actually passes under the flying buttresses of the cathedral. The side of the church is marked with the scrapes of passing cars. You'll be glad you're on a bike. That evening we took a tour of the garden patios of the town. Our guide from the town's tourist office walked us through the old city and basically yelled "Hey, can we come in and see your patio?" at likely houses. It was a wonderful chance to see and meet the town's residents. Everyone was friendly and we had a great time.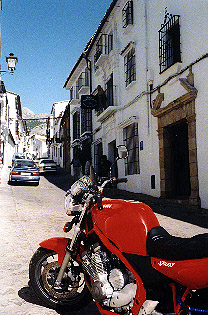 Yamaha XJ600

While Arcos is not well touristed, it is well described by the travel guru of public television: Rick Steves. I like Steve's books and his "backdoor to Europe" philosophy, but he attracts, how should I put it, a certain kind of crowd. We saw couples in sensible traveling shoes and permanent press slacks reading aloud from their index-tabbed Rick Steve's guidebook held directly in front of their face as they walked through the town. One otherwise nice guy we met actually said "I trust in Rick". You have been warned.

On Friday after dropping our stuff at our hotel in Arcos, we made a day trip to the town of Jerez. It would have been more interesting if we had arrived the day before for the performance of the Andalusian Equestrian School. The rehearsal we attended only hinted at the horse's capabilities. We also toured a Sherry bodega. The enjoyable tours will seem familiar to anyone who has spent time in California's wine country and are followed by a generous tasting session.

"Give Spain No Hope"

On Saturday, the fourth day of the trip, we rode through remote olive and oak filled hillsides towards Gibraltar and the famous rock. It took a friendly farmer on a scooter to lead us through the tricky CA503 junction near Algar. Gibraltar couldn't be more different from Spain if it tried. A British colony for well over 200 years, the presence of the British military on what, to Spaniards, should be Spanish, is a constant insult. As a measure of the psychological divide the campaign slogan of the former prime minister of Gibraltar was "Give Spain No Hope." The hours and prices in Gibraltar came as a shock. Saturday night at 9 pm the town is asleep, the streets deserted and we paid nearly $50 (more than twice the price of a nice room in Spain) for a double in the Youth Hostel.

A more economical sleeping option, for the brave, are the free bunks at the Gibraltar Motorcycle Club (Tel 79049). The club welcomes all traveling motorcyclists. When we arrived most of the club members seemed to be at a tattoo festival in Portugal. We were welcomed, but my girlfriend was put off by the pornographic posters, the steel cage around the bar and the fact that she was the only woman. To get to the club once you arrive in Gibraltar, follow the signs to the lighthouse, but continue past the lighthouse and around the point. You'll travel through a long tunnel, one of many that riddle the rock. The club is on the left past the water tank.

The best thing about visiting Gibraltar on a motorcycle was how easy it was to leave. While cars have to spend hours in the queue through the border and customs, motorcycles and scooters drive past the barricades and across the international border without even stopping to show their passports. We mistakenly drove in the line with the cars and were told by several people to just drive around the barricades. Finding this hard to believe, I waited and watched and sure enough, passing scooters were driving across the international border without stopping. We drove out of the queue and around the barricades without incident, but it was hard to shake the feeling I was going to be shot at any moment. Amazing!

Fiesta de la Virgen del Carmen
Now on our fifth day of the ride we drove through the best scenery yet. The A369 road back up to Ronda from Gibraltar stuck high to the hillsides well above the white villages below. The flawless asphalt allowed a relaxed 50 mph cruise as we carved the hilltops. Passing Ronda we went back to Grazalema for the Fiesta de la Virgen del Carmen (which should occur on Sunday , July 16th, 2000, but you may want to contact the tourist office in Grazalema to confirm the date). The festivities started with a parade featuring a statue of the Virgin carried through the town at sunset with a marching band. This kicked off an all night party with dancing, games and a carnival atmosphere. The next morning was Lunes de Toro, the "Monday of the Bull."

Lunes de Toro, Grazalema
The Monday of the Bull
You've probably heard of the running of the Bulls in Pamplona, but even Spaniards outside of the region seemed unaware of the bull running in Grazalema. Four times over the course of the day a single bull is run through the streets. People run in front of it, behind it, and dodge it by hanging off windows and balconies. A long rope is tied to the bull's horns to keep it on the designated route through town, but for the most part it is just glorious, chaotic pandemonium. Amazingly the sole injury was when an over-excited participant fell and hit his head on the cobblestones.
Tuesday morning we left Grazalema for our last day of riding. Heading north on the CA531 we drove over the winding pass through Zahara de la Sierra and on to the village of Setenil, much of which is carved out of a rock cliff. After a lunch in Setenil, we drove past expansive fields of sunflowers back to Malaga to return the bike. I was worried about the charge for the stolen gloves, but my worries were dismissed with a wave of hands. We were then given a bottle of sherry and free ride to the airport. Turarche--I love you guys!